More gigs.
Hey everyone thanks for visiting the TMF website we trust you are all well. Thanks to everyone who has been to see us lately you will have noticed that we have some new songs for you and we are keeping it fresh there will be 2 new songs at Josephs Well on the 17th so i hope you all get along and support us.
By now you should all have at least one of our CD's if you dont please get in touch and we will supply you with one of our fantastic CD's.
For regular followers of the band you will know we have been in the studio recording our new EP and were glad to say it went very well and the self titled new EP is now available. It has 3 songs on and it sounds great. We would like to give a big thankyou to Chris Holland who produced the CD and did a fantastic job it seems if you are a band on the Leeds scene and you haven't recorded with Chris there is something wrong, everybody seems to at least know him even if he hasn't produced them. I'm glad to say he did a fantastic job for us and we would definatly reccomend him to any band. THANKS CHRIS.
NEW EP NOW AVAILABLE!
The new TMF EP is now available for just £3.
Order Now
Contact us!
If you would like to contact us we will be happy to answer any emails personally (see below for addresses)or alternativly email all of us on the link below.

Footytmf@hotmail.com - for Chris
skate_punk1@hotmail.com - for Steve

DONT FORGET TO SIGN THE GUEST BOOK BEFORE YOU LEAVE!!!

View Guestbook
Photos
There will be some photos from the gig added over the next few days so if you were there keep checking you may see yourself. If you wern't there have a look to see what you were missing.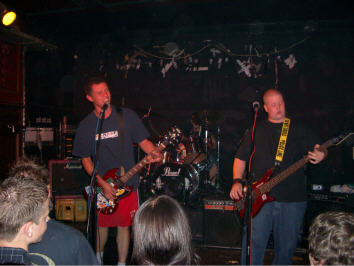 TMF CD's AVAILABLE NOW
We have three CD's Available now you can order them below
TMF - PENDING APPROVAL - £3 - Three song debut EP
TMF - LIVE AT THE NEW ROSCOE - £3 - 45 Mins of live madness.
TMF - TMF - £3 - New three song EP
Order now.